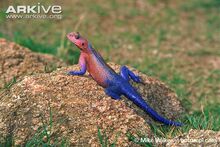 An African species, the common agama (Agama agama) is found in a range of habitats from urban to wild areas. Mainly an insectivorous species, the common agama can also feed on vegetation and small reptiles. Female common agamas dig a hole in which to lay a clutch of around 5 to 7 eggs.
Gallery
Is a Crocodile a Reptile?
Books
Community content is available under
CC-BY-SA
unless otherwise noted.