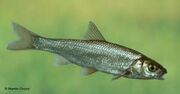 The
common dace
(
Leuciscus leuciscus
), the dace or the Eurasian dace, is a fresh- or brackish-water fish belonging to the family Cyprinidae (Say it: sigh-PREE-nee-dee). It is an inhabitant of the rivers and streams of Europe north of the Alps as well as in Northern Asia. It is abundant in much of its range, and has also spread to Ireland where it is used as a bait fish. It will grow to a maximum length of 40 cm (1 ft 4 in), a maximum weight of 1 kg (2.2 lb), and may live for up to 16 years.
Gallery
Community content is available under
CC-BY-SA
unless otherwise noted.