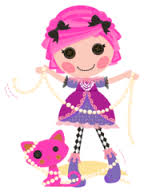 Confetti Carnivale is the best party-goer of all the Lalaloopsy Land. She loves to throw fancy parties and almost always stays up past her bedtime! When she's feeling mischievous she sometimes disguises her identity, but her friends always know who she really is. Confetti is the older sister of little Streamers Carnivale. Her name is based off of confetti streamers as well as her frequent carnival masquerade party.
About Confetti
Appearance
Confetti Carnivale is a fair skinned Lalaloopsy with soft pink blushing cheeks and basic black button eyes. She has deep pink hair that is all pinned back in very fancy curls held with two small black bows. Her bangs curl to the side with a single loose curl in the corner.
She wears a fancy dress consisting of light purple silk with thin white stripes. At the end of both princess puff sleeves is black lace ruffle material. Over her dress is a magenta layer, and lining the entire dress are soft pink ruffles and lace. At her neck is a three layer pearl necklace. She also has light purple boots with pink cuffs giving them a resemblance to a pair of jester shoes. She also wears black and white harlequin stockings.
Confetti comes with a special mask of a black cat face with winged eyes and a small pink nose. The handle is pink with a tiny black bow.
Pet
Confetti's pet seems to be a direct copy of Jewel's Persian kitty-cat. The only difference is that her cat is fuchsia with pale pink facial markings.
Home
Confetti's home is an elaborately decorated canopy palace much like Suzette La Sweet's. Her canopy is located beside a flowing canal with a pretty pink gondola docked nearby. Her outdoor decorations consist of masquerade masks and intricate paper fans.
Trivia
September 21st is Dress Up Day.
Confetti looks to be a cross between Jewel Sparkles and Suzette La Sweet.
Her shoes are a recolor of Holly Sleighbells', Pix E. Flutters', Star Magic Spells', and Smile E. Wishes'.
Her cat is almost identical to Jewel Sparkles, only having a lighter hue.
She has a reference of Rio's most common holidays, Carnivale.
Confetti debuted along with Haley Galaxy, Mint E. Stripes, & Teddy Honey Pots in 2013.
Gallery