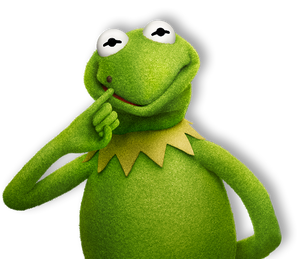 Constantine is the evil frog from Muppets Most Wanted.
Bio:
Constantine is the main antagonist of the film. He plans to steal the Crown Jewels of England with help from his #2, Dominic Badguy.
In the film, Constantine is trapped in a prison cell in Russia. However, he is somehow able to break free with pre-planned explosives and uses his martial arts to his expertise to escape. Then, as a wandering, shadowy figure, he puts a fake mole on Kermit the Frog's cheek by slapping it on the exact spot his would be, framing Kermit and putting him behind bars.
Constantine on the other hand brought green makeup to cover up his mole so no one would suspect him, and make the Muppets (except Animal) believe he is Kermit.
Voice Actors:
He played Evil Version of BB Robot in

Deadly Friend (Nikkdisneylover8390's Animal Style)
He played Mr. Tinkles in Muppets and Animals (Cats and Dogs) 
He played soto in

Jim Henson Age
He is a evil smilodon
Portrayals
In Cats Most Wanted, he is played by Macavity
Gallery: