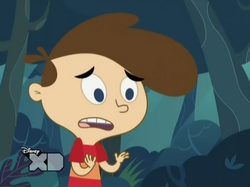 Cooper "Coop" David Burtonburger is a 10-year-old boy who lives in a town called Bootsville and the main protagonist in Kid vs. Kat. He lives with his father Burt and his younger sister Millie. His normal day is spent trying to save the Earth from cat invasion while trying to just enjoy himself along the way. He also has a crush on Fiona Munson.
He is a lion cub
Coop played The White Rabbit in Princess Camille in Wonderland
He is one of Mrs. Brisby's children
He is a orphan
He is an orphan
He is a young boy
He is a troop boy scout at the end of the film
He is DJ's best friend
He will play Gunther Magnuson in an upcoming Kick Buttowski: Suburban Daredevil parody
He will play Tuck Carbunkle in an upcoming My Life as a Teenage robot parody
He will play Wilykat in an upcoming Thundercats parody
He will play Lee Kanker in an upcoming Ed, Edd n Eddy parody
He will play Mr. Whiskers in an upcoming Brandy and Mr. Whiskers parody
He will play Lt. Pete "Maverick" Mitchell in an upcoming Top Gun parody
Community content is available under
CC-BY-SA
unless otherwise noted.