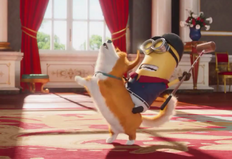 Corgi (Corgis) - Dogs from minions, Queen Elizabeth's favorite breed ll. They appear in the films Minions 2015 and Minions Mower and in The Secret Life of Pets. They live in England at Bukmekem Palace with the Queen and the Athletes and the butlers. Until now, Kevin, Stewart and Bob (after he becomes King of England) remain at Buckechem Palace with Corgis and the Athletes. First they played polo on Corgis and then cricket (for one of Queen Elizabeth's Corgis). And when Scarlet Overkill crowds with a gun, a cricket ball hits Scarlett's face and Corgi hits them and she stands up, boiling with anger, she holds Corgi, who licks her face. But Scarlet Overkill throws Corgi back to the floor. Collapse and whine. During the ceremony, the Athletes held their Corgis Queens in their hands. One of Queen Elizabeth's Corgis licks her tongue to one of the minions. And the last time he was seen was one of the Athletes throwing a cricket ball at one of the Queen's Corgis. And five Athletes and five Corgis play polo on Top of Corgi and catch up with her and stomp Kevin. Further Corgi Queen he can be seen in the mini film Minions Mowers and in the film The Secret Life of Pets.
Parody
- Dalmantin Puppies as Corgis (In foxes (Minions)
- Balto as Corgi
- Scap as Corgi
Wolves as Corgi (in Dogs (Minions)
- Scooby Doo as Corgi (as Minions Bears)
All presonages from the film Gorko 2 as Corgis (in boys (Minions)
Gallery
Interesting facts
This is a dog (dogs) having Corgi breeds.
They performed well as racehorses in the game of polo riding corgis.
It is not known whether the Queen's Corgis will appear in the future film Minions 2.
See also