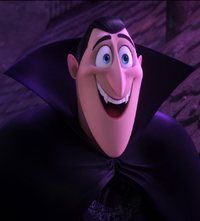 Count "Drac" Dracula (voiced by Adam Sandler in the films, David Berni in the TV series) is based on the Count Dracula of lore. Although he is a Russian-accented misanthropic vampire, he has no cravings for human blood, saying that he drinks a blood substitute and "you can't tell the difference". He also dislikes people implying he says "Bleh bleh bleh" all the time, as he only ever says it to state that he doesn't say it.
He is a cat
Dracula played The Emperor in Frankielan
He is the emperor of China
Dracula played The Peddler in Kuboladdin (Dragon Rockz Style)
Dracula played Fat Albert in Fat Dracula And The Cosby Drac Pack Kids (TheTureDisneyKing Style)
He is a crocodile
He is a gumball machine
He is a wizard
Dracula played The Genie in Godzilladdin
He is the Genie of the lamp
He is the Vampire
Dracula played Phoebus in The Despicable Of Norte Dame And The Despicable Of Norte Dame 2 (TheTureDisneyKing Style)
Dracula played Lenny in Vampire Tale
He is a shark
He is a relaxation Vampire
Portayals
In Hotel Transylvania (Twilight'sSpaceStar17's Style) played by Venom
Gallery:
Community content is available under
CC-BY-SA
unless otherwise noted.