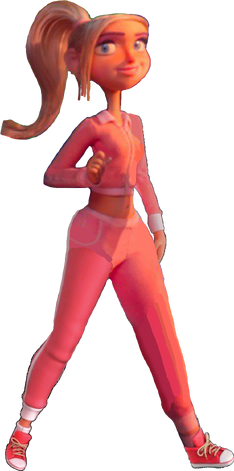 Courtney Babcock is the older sister of Norman from ParaNorman. She is a cheerleader and acts stereotypically snobbish and mean-spirited most of the time. Courtney resents Norman and when he says he can see the dead, she goes out of her way to prove he's a liar. Until the night when she puts aside her differences and stands up for him, because even though she acts like she hates him, she loves Norman with all her heart. Courtney is usually in a tight pink sports outfit that hugs her curves and shows her belly. She attempts to flirt with Mitch many times during the events on the night of the 300th anniversary of Agatha Prenderghast's hanging. She is later disappointed when she finds out Mitch is gay, after he mentions his "boyfriend".
Voice Actors:
Anna Kendrick - English
Christine Byrd - Latin American Spanish
Gallery
Community content is available under
CC-BY-SA
unless otherwise noted.