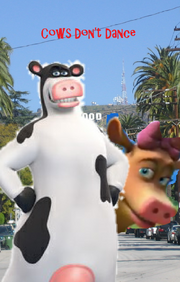 a spoof of Cats Don't Dance.
Cast
Danny - Otis (Barnyard)
Sawyer - Daisy (Barnyard)
Tillie the Hippo - Bridget (The Wild)
Woolie the Mammoth - Manny (Ice Age)
Cranston Goat - Buster Moon (Sing; 2016)
Frances Albacore - Lani Aliikai (Surf's Up)
Pudge - Erik (Happy Feet Two)
T.W. Turtle - Peter Porker/Spider Ham (Spider-Man: Into the Spider-Verse)
Darla Dimple - Camille Le Haut (Ballerina/Leap!)
Max - Businessman (The Little Prince 2015)
L.B. Mammoth - KnowsMore (Ralph Breaks the Internet)
Flanigan - Spamley (Ralph Breaks The Internet)
Farley Wink - Grandpa Bill (All I Want for Christmas Is You)
The Bus Driver - Tad Stones (Tad The Lost Explorer)
Alligator in Crying - Lenny (Shark Tale)
Scenes
Gallery
Community content is available under
CC-BY-SA
unless otherwise noted.