Crash Bandicoot Oddball Crackups
is an Australian from the video on Newgrounds and this like him. and to Sonic Oddball Crackups to 2006 on Newgrounds and youtube look like video to Parody Japanese cartoon and more...And First is upcoming to The YouTube and Newgrounds to the 2016, and After Sonic Cancelled from the cartoon. and Crash Bandicoot Oddball Crackups and creator by Big-Papa-Kitsune.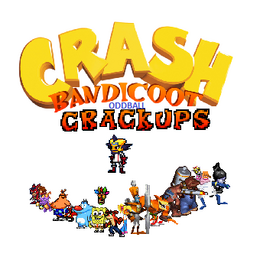 Characters
Crash Bandicoot
Coco Bandicoot
Crunch Bandicoot
Tiny Tiger
Dingodile
N. Gin
Nina
N. Tropy
Dr. Neo Cortex
Aku Aku
Sora
Spongebob
Oggy the Cat
Toejam and Earl
Spyro
Aero the Acro-bat
Bloopers
Crash vs. Dr. Cortex
Crash and Spongebob
Crash Bandicoot and the Middle East
Coco bandicoot Hindi
Toejam and Crash 
Fake Aku Aku
Crash Bandicoot Japanese 
Spyro looking Girls of Coco talking to Ariel
Crash Bandicoot Unboxing PS4 to Game skylanders
Crash and Spyro Musics
Earl and Spyro
Crash Bandicoot 3 vs. N Tropy.
Pinpin Ain't Spongebob
Time Paradox!
Crash Bandicoot Goal!!
Crash and Toejam playing PlayStation 4
Crash To The Fall 1/4
Crash Bandicoot and Ending from the Episodes
Crash spooks Oggy
The End
Credits
Advance Bloopers 2
Captain America to N Sanity Island
Uka Uka is fall
Toy Story 4
Crash Bandicoot China
Spongebob getting to Kills Crunch
Crash is William Shatner!
Crash Bandicoot Transformers
Crash Bandicoot Star Wars
A Tragedy for Spyro!
N. Gin Numa Numa
Crash take to the New Masks
Aku Aku Watches Meatspin!
I'm Crash The Sailor Bandicoot.
Crash playing Mugen
Crunch is kill to Peoples
Crash, Spongebob n Spyro!
Startup PSX Parody 1/3
Crash and the people to ending from Episodes
Credits!
Community content is available under
CC-BY-SA
unless otherwise noted.