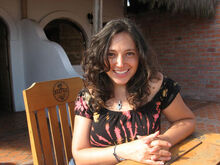 Helga Cristina Hernandez Ramirez (n. Mexico, DF, February 13 of 1977) is a voice actress, host and announcer Mexican. She began her career as a voice actress in series television in 1989. It is known for having given her voice to main characters of several series of anime such as Sakura Kinomoto of Sakura Card Captors, Lima in Saber Marionette, Shizuka in Doraemon, as in other series like Pokemon and Digimon, and it has doubled in various children's series and cartoons. She has also worked in films and series of Disney, especially all the films where appears Lindsay Lohan , Anne Hathaway and Natalie Portman who bends her voice and the character of Padme Amidala in The Phantom Menace, Attack of the Clones and Revenge of the Sith. 3 has been the official voice of the business of toys Mattel and TV channel Cartoon Network for Latin America. Her daughter Maria Garcia (born in 1998, from her relationship with fellow voice actor Rene Garcia) has also followed suit.
Voices:
Rini/Sailor Mini Moon (Episodes 66-172) - Sailor Moon
Rini/Sailor Mini Moon - Sailor Moon Crystal
Flora - Babar: The Movie (Mexican re-dub)
Flora (seasons 1-5) - Babar (Mexican re-dub)
Blossom - The Powerpuff Girls (1998)
Cera (Movies 2 & 4) - The Land Before Time
Young Anastasia - Anastasia
Kiki - Kiki's Delivery Service
Officer Jenny - Pokemon
Min - Barney & Friends
Holly - Frosty Returns
Abby - Barney's Great Adventure
Annette - Lady and The Tramp 2
Holley Shiftwell - Cars 2
Carla - The Monster Clubhouse
Community content is available under
CC-BY-SA
unless otherwise noted.