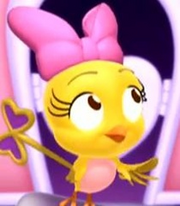 Cuckoo-Loca is Minnie and Daisy's bird friend and Dinky's love interest.
Gallery
Trivia
"Loca" is the Spanish word in female for "crazy". Her name is probably a reference to when people compare someone crazy with a cuckoo bird.
Cuckoo-Loca is shown to dislike when Minnie and Daisy sing the Happy Helpers jingle.
She has the exact same voice and accent as that of Sticks the Jungle Badger from Sonic Boom, who is also voiced by Nika Futterman.