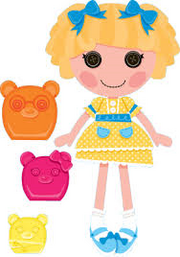 Curls 'N' Locks is Lalaloopsy Land's most particular and picky resident! She's super-choosy, and she always wants what other people have. She has lovely golden hair, and her favorite food is porridge...but only if it's just right. Her name is based off of the curly style of her gold locks!
About Curls
Appearance
Curls 'N' Locks lives up to her namesake. She has fair skin with bright pink cheeks and curly golden hair. Her bangs look uneven, with a single strand curling down on both sides and cheek length hair worn with two blue ribbons.
Curls wears a yellow dress with puffed sleeves with dark blue lining, a blue sash belt, lighter blue pockets, and a two-layer skirt with ruffles on both of them. She wears white socks and light blue Mary Janes.
Pet
She has three gummy bears that are transparent. The papa bear is big and orange and has glasses on, while Mama bear is medium sized and pink with a bow on her left ear, then finally baby bear is small and yellow with a diaper.
Trivia
October 29th is Oatmeal Day.
She is based on the fairytale character, Goldilocks.
Gallery
Main article: Curls 'N' Locks/Gallery