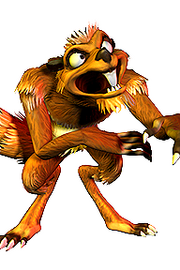 Cyril is a squirrel monster in "Rampage: Total Destruction".
Background
Cyril's participated in a Scum Soda taste testing trial set up by Scumlabs, only to have transformed into a giant Squirrel and imprisoned in a Cryo-Tube in Dallas night.
Strategy
He can be unlocked as a playable monster in Dallas if the player is able to free him from the Cryo-Tube. The Cryo-Tube is hidden in a building in Turtle Creek; the player can free him by punching a hole in the building he is hidden, and if the player spots a glint of a bright green aura flashing from the hole, the player must punch the hole to smash the Cryo-Tube and set Cyril free. By using Joe the Wildman or Sarah the Spider on the Nintendo Wii version of the game will result in Cyril physically hopping out of the building and walking off the screen. Cyril the Squirrel will then become a playable monster in the Monster Selection Menu.
Community content is available under
CC-BY-SA
unless otherwise noted.