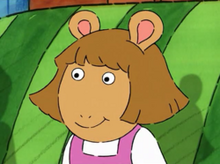 D.W. Read is a Arthur's younger sister from the hit Series:  Elwood City: Arthur and D.W. (1996).
El-Wood City; Author and D.W. Read: Anthropomorphic Aardvark's: lives in the community of El-Wood City; with Residential: Classmate's, Friend's, Neighbour's, Educators, Authority Figures, and his family. Looking at the perspective of each Companion and how they revolve around Author who is the main Character: living a modest day of his life. They Lived Parellel in different direction's, separate from him. D.W. and the Preschoolers is Parallel Alternate Sequence version how his sister lives.
She played SkyTrain Mark I #116
She is a playable with Marlee White.
She played SkyTrain Mark I #140
She is a hostage with Link from Super Smash Bros Melee as Thayne Prouten.
She played Tickety Tock in Some of the Blue's Clues Parodies
She played Patrick Star in SpongeTommy SquarePickles
She played Rescue Pack in Go,Tommy,Go!
She is a green emotion.
She played Baby Bop in Arthur & Friends (a.k.a. Barney & Friends)
She's a fish
She is an enchancia princess.
She is a fairy.
She is a rabbit.
She is a mouse.
She is a princess.
She is a vampire.
She is Wubbzy's friend.
She is a duckling.
Gallery
D.W.'s Animal Counterparts:
D.W. as the Hippopotamus
D.W. as the Bear
D.W. as a Squirrel
Trivia
D.W. is Also Best Friends with Tommy Pickles and Dil Pickles (From Rugrats)
Spouse:
Children:
Dil Pickles (son)
Kate Read (daughter)
Tyler (young son)
Gallery of D.W. and her boyfriend Tommy
Community content is available under
CC-BY-SA
unless otherwise noted.