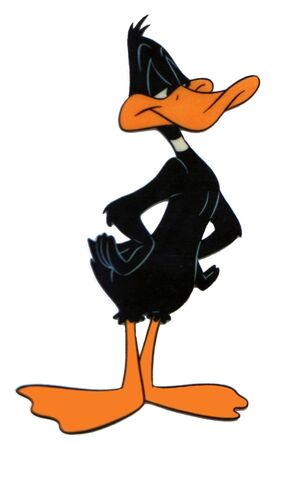 Daffy Duck is an animated cartoon character produced by Warner Bros. Styled as an anthropomorphic black duck, the character has appeared in cartoon series such as Looney Tunes and Merrie Melodies, in which he usually has been depicted as a foil for Bugs Bunny. Daffy was one of the first of the new "screwball" characters that emerged in the late 1930s to replace traditional everyman characters who were more popular earlier during the decade, such as Mickey Mouse and Popeye.
Daffy Duck played Fred in Costume in Big Toon 6
Daffy Duck played Ling in Gwenlan
He is a fox
Daffy Duck played Robin Hood as Stork in Trent Hood
He is one of Robin Hood's disguises
Daffy Duck played Creeper in The Black Cauldron (Twilight'sSpaceStar17's Style) and The Black Cauldron (150Movies Style)
He is a Cluck and Chicken Little's Father
He is a warthog
He is a pelican
He is a dwarf
Daffy Duck played Kevin the Sea Cucumber in SunBob ShimmerPants
He is a dwarf
He is a tiger
Portrayals:
Voice Actors
Gallery:
Community content is available under
CC-BY-SA
unless otherwise noted.