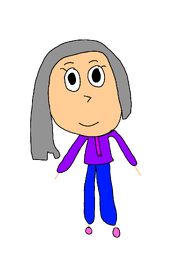 Daisy is one of IceCreamFanatic2001 (Robe)'s OCs. She is Geppetto's girlfriend and Pinocchio's stepmom.
Appearance
Daisy's signature outfit consists of a purple and pink long-sleeve shirt, blue pants (or trousers, depends on which country you live at), and pink shoes. She has gray hair similar to Widow Tweed's.
Relatives
Gallery
Poses
Disguises
Trivia
She and Widow Tweed share the same hair color but Widow's hair is a bit lighter than Daisy's.
According to Robe's deviantart, she was made around May 2020.