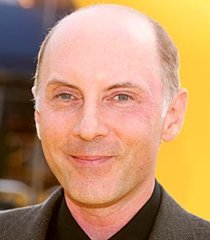 Daniel Louis Castellaneta (born October 29, 1957) is an American actor, voice actor, comedian and screenwriter. Noted for his long-running role as Homer Simpson on the animated television series The Simpsons, he voices many other characters on the show, including Abraham "Grampa" Simpson, Barney Gumble, Krusty the Clown, Sideshow Mel, Groundskeeper Willie, Mayor Quimby and Hans Moleman. Born in Oak Park, Illinois, a suburb of Chicago, Castellaneta started taking acting classes at a young age. He would listen to his father's comedy records and do impressions of the artists. After graduating from Northern Illinois University, Castellaneta joined Chicago's Second City in 1983, and performed with the troupe until 1987. He was cast in The Tracey Ullman Show, which debuted in 1987. The Tracey Ullman Show included a series of animated shorts about a dysfunctional family. Voices were needed for the shorts, so the producers decided to ask Castellaneta to voice Homer. His voice for the character started out as a loose impression of Walter Matthau, but later evolved into a more robust voice. The shorts would eventually be spun off into The Simpsons. Castellaneta has won four Primetime Emmy Awards for Outstanding Voice-Over Performance for his work on the show as well as an Annie Award for Outstanding Individual Achievement in the Field of Animation in 1993. Castellaneta has co-written four episodes of The Simpsons with his wife Deb Lacusta. Castellaneta has also had roles in several other television programs, SuperMarioLogan as the voice of The Brooklyn Guy, including the live-action sitcom Sibs, The Adventures of Dynamo Duck, and the animated series Back to the Future: The Animated Series, Earthworm Jim, Aladdin, Hey Arnold!, and Darkwing Duck. In 1999, he appeared in the Christmas special Olive, the Other Reindeer and won an Annie Award for his portrayal of the Postman. Castellaneta has also released a comedy CD, I Am Not Homer, and wrote and starred in a one-person show titled Where Did Vincent van Gogh?
Voices:
Genie - Aladdin
Homer Simpson, Grandpa Simpson, Barney Gumble, Groundskeeper Willie, Krusty the Clown, Sideshow Mel - The Simpsons
Carl Chryniszzwics - Johnny Bravo
Grandpa Phil, Jolly Olly Man - Hey Arnold!
Earl - Cow and Chicken
The Postman - Olive the Other Reindeer
Jonathan - Rugrats
Earthworm Jim - Earthworm Jim
Community content is available under
CC-BY-SA
unless otherwise noted.