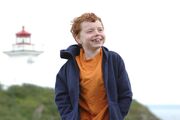 Daniel Cook is first appearance was Eat, Sleep, Friends, Careful, Halloween, Greetings, Find, Together, Christmas, Love, and Imagine.
Side: Muno, Brobee, and Plex
Born: April 1st, 1997
Age: 10
Gender: Male
Phrase: Eating, Sleeping, having Friends being Careful on Halloween saying Greetings together, Loving Christmas when you Imagine and that's what I like to do.
8-bit game: TV Time, Race to the Finish Line, Brobee Affair, Arcade of Doom, Riverboat Racer, Find a Friend, Knock on a Friend's House, Present for Foofa, Foofa and Plex Race, and Pirate Ship Treasure
Toy: Rocketship (2x), Dinosaur (2x), Snail (2x), Soccer Ball, Magic Fish, Mini Orbiter, and Robots
color of dinosaur body orange spines olive green
Trivia
Daniel is related to Emily Yeung, Scarlett Dovey, and Isaiah Gero-Marsman.
He is a presenter on Funtimes House.
Gallery