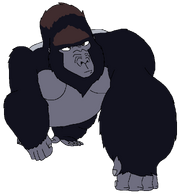 Danja is a silverback Western lowland gorilla from the upcoming TV-Series Animal World.
Apperance
He is a black gorilla, with a white back and orange forehead and a white back, he resembles Kerchack from the 1999 Disney+ film, Tarzan.
Personality
Gentle, stubborn, giant, gruff, calm, funny, all of a sudden.