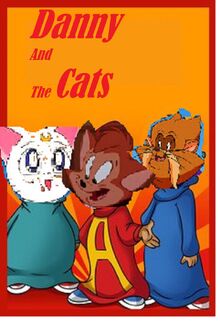 TheBluesRockz's TV spoof of Alvin and the Chipmunks (1983-1990). It will appear on YouTube in the near future.
Cast:
Alvin Seville - Danny (Cats Don't Dance)
Simon - Tiger (An American Tail)
Theodore Seville - Artemis (Sailor Moon)
Brittany Miller - Sawyer (Cat's Don't Dance)
Jeanette Miller - Miss Kitty (An American Tail 2: Fievel Goes West)
Eleanor Miller - Luna (Sailor Moon)
Dave Seville - Aladdin
Miss Miller - Raye/Sailor Mars (Sailor Moon)
J.B. - Himself
Vinny - Duchess (The Aristocats)
Uncle Harry - Cat R. Waul (An American Tail 2: Fievel Goes West)
Miss Grudge - Herself
Eva - Princess Morbucks (The Powerpuff Girls)
Olivia - Herself
Marsha - Jasmine (Aladdin)
Alvin Smith - Garfield
Simon Smith - Dongwa Miao (Sagwa the Chinese Siamese Cat)
 ??? - Chester (Bunnicula)
 ??? - Angus Scattergood (Rock Dog)
Roland Bellyache - ???
Batmunk/Brice Wayne - A Fat cat
Happy the Butler - ???
The Jokester - ???
Nicki Nale - ???
Dr. Simonize - Scat Cat (The Aristocats)
Miss Mayor - Gwendolyn (The Fearless Four)
Mr. Pinkie - Meowth (Pokemon)
Sherlock Holmes - Mufasa (The Lion King)
Watson - Zuba (Madagascar 2: Escape 2 Africa)
Professor - Scar (The Lion King)
Seasons:
Movies:
See Also:
Trivia:
Gallery:
Community content is available under
CC-BY-SA
unless otherwise noted.