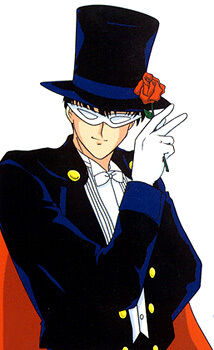 Darien Chiba is the hero who helps Sailor Moon and her friends in Sailor Moon. (aka Mamoru)
Voice Actors:
He is a red ant.
He is a white cat.
He is the handsome Prince Charming.
He is a Human form of Casper
He is Monterey Jack's dad.
He is Fievel's dad.
He is a prince.
He is a Hippie and Member of the slovers
He is a Creator
He Plays Max Taylor in Dinosaur King
He is a Teenager Boy of the D-Team
He is Phillip's Father
He Plays Chip in Darien 'n Tracey
He is a Rescue ranger Rodent
He is a Pokemon trainer.
He is a ninja.
He Plays Genie in Aladdin spoof for 1986Movies
He is a genie.
He is a Kratt brother.
He Plays King Colbert in Senalina
He is a Fairy king.
He is a chipmunk.
He Played Adult Simba In The Teenager King 400Movies
He is a Lion
He is ?????
He is a Elephant
He is a Cheese Manica
He is a Robot Chipmunk
He is Taylor's Father
He is a Prince
He is Littlefoot's father
He is a grouchy farmer
He Played In Atlantis The Lost (4000Movies Style)
He Played Dave Seville In
He is The Chipmunks father
He Played ???? In Ashruto
he is Naruto's Team mate and Friend
He Played Cowboy In Teenager Story 4000Movies Style
He is a Sheriff Toy
He Played Danny In Teenage Don't Dance 1961Movies
He is a Tabby Cat
He Played In Serena and the Pussycats
He is a
He Played Tadashi Hamada In Big Hero 6 (1961Movies Style)
He is Brother
He Played In Mamoru and Alvin
He is ????
He Played Nigel Thorberry In The Wild Thornberrys (400Movies Style)
He's a Explore
He Played Finstone In The Chibas
He is a Barney's Best friend
He Played Numbuh 1 In C.D Anime Next Door foro Chris1812
He Played Littlef In The Land Before Time Series (1984Movies Human Style)
He is a Longneck
He is a Mysterious Superhero
He Played Mr.Flynn (Aka Phineas' true father) In Rai and Ash
he is a Stepbrother
He Played Prince Eric In The Little Mini Moon The Little Mini Moon 2: Return to the Sea and the Little Mini Moon 3:Chibiusa's Beging
He is a ??
He Played Himself In The Little Tsukino
He Played Sasuke Uchiha In Ashruto
he is one of Naruto's Best Friends
He is a Super Hero
he is a Half-Saiya
Portrayals:
Gallery:
Community content is available under
CC-BY-SA
unless otherwise noted.