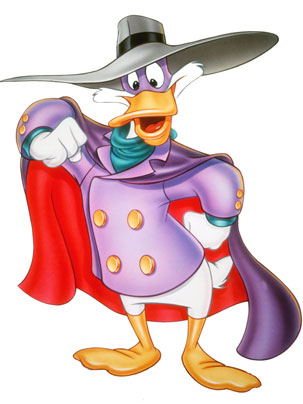 Drake Mallard is the not-so-mild-mannered alter-ego of St. Canard's resident superhero Darkwing Duck, and the protagonist of Disney's 1991-92 animated television program of the same name. He is also the adoptive father to the orphaned Gosalyn Waddlemeyer. He has been described as a cross between Batman and Donald Duck but his costume and gas gun seems to be a reference to pulp fiction character the Shadow. He made his debut along with Gosalyn in The Disney Afternoon title sequence in 1990.
Voice Actors:
Jim Cummings - English
Chris Diamantopoulos - English

Anders Ojebo

- Swedish
Darkwing Duck played Peter Pan in

Darkwing Pan
He is a flying boy.
He is a good mask.
He is a cat.
Darkwing Duck played sportacus animated version In Lazytown
only in the episode Once Upon a Time he is red's animated version
Portrayals:
Gallery: