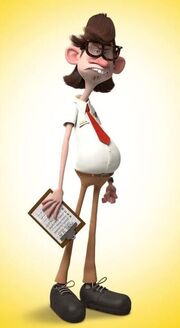 This article's content is marked as Mature
This page contains content from media that may not be suitable for those under age of 18, which may include excessive violence or blood and gore, coarse language, and/or sexual content.


If you are 18 years old or older or are comfortable with such content, you are free to read this page, otherwise, you should view another page.
Darren is the secondary villain in the 2016 adult animation film, Sausage Party. He's the store manager of Shopwell's and Douche's pawn.
He was voiced/portrayed by Paul Rudd.
Diesel or Diesel 10 (Thomas and Friends)
Zorran (TUGS)
Harisson (Chuginctoon)
Pete (The little engine that could)
Chick Hicks (Cars)
Gallery: