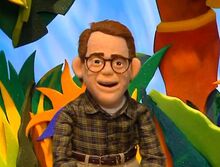 Dave the Human is a guest who hails from the cities, towns, and villages around the world, and appears in the fourth season 3 episode of The Animal Show. He sports glasses and a green-checkered shirt. He tells Stinky and Jake about human beings and how they live in houses, wear clothes instead of fur, use tools and machines like vacuums to clean dirt off the floor, water the grass with hoses, wash dishes, take baths in tubs, drive in automobiles, and even watch Stinky and Jake's show. After the interview, he joins Maxine the Indian Elephant in singing "The Teamwork Song."
Voice Actor
Community content is available under
CC-BY-SA
unless otherwise noted.