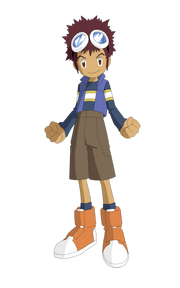 Davis Motomiya (Daisuke Motomiya) is the main character of Digimon Adventure 02. His Digimon partner was V-mon.
Voice Actor/s
Reiko Kiuchi (Japanese)
Brian Donovan (English)
Appearance
Det. Rush's partner (portrayed by Yolei Inoue) and also a detective from the homicide team. He entered in the first season.
He was also the writer and sub director for the 19th episode of the 4th season entitled Offender, where his fellow Digidestined and a legendary warrior Tommy Himi portrayed Clayton Hathaway as the main victim.
Portrayals
Gallery