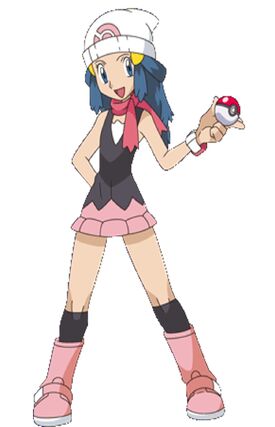 Dawn is a character in Pokemon trainer and a good friend of Kids World's, and Blake Foster also met Dawn's other friends Pikachu, Ash, Togepi and Brock. They first met Ash in Kids World's Adventures of Pokémon: The First Movie, and since then he has appeared in Kids World's future adventures as a guest character. His prowess in Pokémon Training and his courage have saved the day countless times, especially with his best friend, Pikachu.
Voice Actors
Emily Bauer - English
Megumi Toyoguchi - Japanese
Gaby Ugarte - Spanish
Leyla Rangel - Spanish
Meghna Kumar - Dutch
Ludovica De Caro - Italian
Alexandra Correa - French
Annevig Schelde Ebbe - Danish
Mi Sook Jeong - Korean
Magdalena Krylik Gruziel - Polish
Talya Barkai - Hebrew
Dawn played as Faline in Ashambi
Dawn Played Sailor Jupiter In Sailor Misty
Dawn Played Mercury In Sailor Megara
Relatives:
Mother - Joanna (Pokemon)
Portrayals:
Gallery:
Community content is available under
CC-BY-SA
unless otherwise noted.