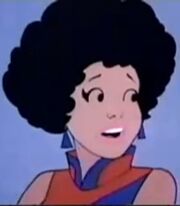 Dee Dee Skyes (voiced by Vernee Watson-Johnson) is an associate of Captain Caveman, one of the "Teen Angels" who found him frozen in a block of ice and thawed him out. Like Valerie Brown on Josie and the Pussycats, Dee Dee is the smartest and most serious member of the trio and Brenda's best friend.
Physical appearance
She is a young, attractive African American woman with a black afro. She wears a red turtle-neck, blue skirt and red boots.
Personality
She is the brainy one, which means she is most likely to solve the mysteries, making her the Velma Dinkley of the group. She also is very observant and is best friends with Brenda.
Gallery:
Trivia
Her appearances in the Stephen Squirrelsky and Friends' Movie Spoof Travels are Nikki's Adventures of Sing Along Songs Episode 9, Cloudy with a Chance of Meatballs, Finding Alvin, Animated Tale, The Forest Book 2, Nikki's Adventures of Sing Along Songs Episode 10, Madagascar, and Sleeping Beauty and will even be in more movie spoof travels.
Community content is available under
CC-BY-SA
unless otherwise noted.