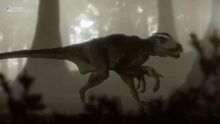 Deinonychus is a genus of carnivorous dromaeosaurid coelurosaurian dinosaurs, with one described species, Deinonychus antirrhopus. This species, which could grow up to 3.4 metres (11 ft) long, lived during the early Cretaceous Period, about 115–108 million years ago (from the mid-Aptian to early Albian stages). Fossils have been recovered from the U.S. states of Montana, Utah, Wyoming, and Oklahoma, in rocks of the Cloverly Formation, Cedar Mountain Formation and Antlers Formation, though teeth that may belong to Deinonychus have been found much farther east in Maryland. Paleontologist John Ostrom's study of Deinonychus in the late 1960s revolutionized the way scientists thought about dinosaurs, leading to the "dinosaur renaissance" and igniting the debate on whether dinosaurs were warm-blooded or cold blooded. Before this, the popular conception of dinosaurs had been one of plodding, reptilian giants. Ostrom noted the small body, sleek, horizontal posture, ratite-like spine, and especially the enlarged raptorial claws on the feet, which suggested an active, agile predator.
Roles
Gallery
Books
See Also
Community content is available under
CC-BY-SA
unless otherwise noted.