Dennis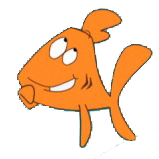 is a male domestic goldfish from the 2001 TV series Stanley. He is Stanley's best freind, and often teaches him about the animal kingdom in the Great Big Book of Everything.
Roles:
He is a friendly big yellow bird
He plays an annoying monkey named Jake.
He is a friendly starfish
He played Gaven, Tano and Their Friends in

Gaven, Tano and Friends
He is a male cat
He is a beagle
He is a bear
He played Grizz in We Bear Fish
Voice Actors
Charles Shaungessy: (English Dub)
Image Gallery
Trivia:
Dennis usaly spins around before asking questions.
Dennis made a cameo in an episode of Pinky Dinky Doo. He can be seen in the pet store.
He is based on a comet goldfish.