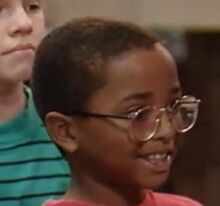 Derek Richards was a character played by Rickey Carter who debuted in the Backyard Gang video Waiting for Santa replacing Salim Grant who played Jason. He appeared in the later videos of the series, as well as in the first two seasons of Barney & Friends.
Voice Actors:
Rickey Carter

- English
About Derek
Family: Lives with mother, father, two brothers, a pet goldfish (Angel), and a dog (Fluffy). His Granddad Richards came for a visit in "Grandparents are Grand".
Hobbies: Reading books, making jokes, playing baseball.
Appearances
Waiting for Santa
Campfire Sing-Along
Barney Goes to School
Barney in Concert
Rock with Barney
My Family's Just Right for Me
Playing It Safe
The Treasure of Rainbow Beard
Going Places!
Caring Means Sharing
Down on Barney's Farm
What's That Shadow?
Happy Birthday, Barney!
Alphabet Soup!
Our Earth, Our Home
Be a Friend
I Just Love Bugs
When I Grow Up…
1-2-3-4-5 Senses! (cameo)
Hi, Neighbor!
A Splash Party, Please
A World of Music
Doctor Barney is Here!
Hola, Mexico!
Everyone is Special
Grandparents are Grand
May I Help You?
Honk! Honk! A Goose on the Loose!
I Can Do That!
Grown-Ups for a Day!
Look at Me, I'm 3!
The Exercise Circus!
The Dentist Makes Me Smile
Stop, Look and Be Safe!
The Alphabet Zoo
On the Move
Barney's Magical Musical Adventure
Barney Live! In New York City
Imagination Island
Storytime with Barney
Portrayals:
Gallery: