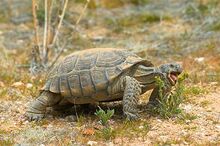 This medium-sized tortoise (
Gopherus agassizii
) inhabits the deserts of the western USA. The carapacevaries in colour from light brown to dark with orange or yellowish markings. The front of the under shell (or plastron) is extended in a projection known as the 'gular horn', which is particularly pronounced in adult males. Males are also distinguished by having longer tails and a raised area to the rear of the plastron.
Gallery
Books
Community content is available under
CC-BY-SA
unless otherwise noted.