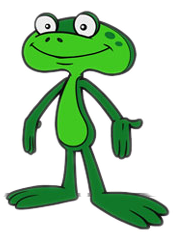 Dewitt is a frog from the 2007-08 Cookie Jar/Kid's WB TV series, Will and Dewitt. He is voiced by Richard Ian Cox.
Roles
he is a blue monster with snail-like eyes and tentacles for arms that is the assistant of George Sanderson.
he is a green caterpillar.
he is a alien transformer.
he is is the guardian of dreams.
Gallery