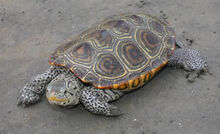 The diamondback terrapin (Malaclemys terrapin) was once almost pushed to extinction due to a fashion among some members of American society for turtle meat, a trend that thankfully died out before this terrapin did. The diamondback terrapin has an oblong upper shell (carapace) that is grey, light brown or black and patterned with concentric diamond-shapes. The shell on the underside of the terrapin (the plastron) can range in colour from yellowish to green or black, and may be decorated with bold, dark markings. The grey or black skin of the limbs and head bears dark flecks and spots, the head is short and flat, and the prominent eyes are black .The large, webbed feet are adapted for swimming, but also bear strong claws that allow the terrapin to clamber up out of the water. Female diamondback terrapins are larger than the males, and have a broader head and shorter tail. Juveniles are patterned much like adults but usually brighter and have rounder shells.
Gallery
Books
Community content is available under
CC-BY-SA
unless otherwise noted.