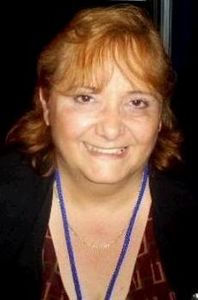 Diana Santos (born María Alicia Diana Santos Colmenero on June 9, 1950 in the Federal District of Mexico, Mexico) is a Latin American voice actress. She is best known for voicing Minnie Mouse and Belle from "Beauty and the Beast".
Voices:
Lucky - 101 Dalmatians
Christopher Robin - Winnie the Pooh and the Honey Tree, Winnie the Pooh and the Blustery Day, Winnie the Pooh and Tigger, Too, and Winnie the Pooh and a Day for Eeyore
Mowgli - The Jungle Book
Adult Faline - Bambi (1969 dub)
Fern Arable and Jeffrey - Charlotte's Web (1973)
Maid Marian - Robin Hood
Heidi - Clara Sasseman
Fritz - The Little Mermaid (1975)
Miss Bianca - The Rescuers and The Rescuers Down Under
Pete - Pete's Dragon
The Boy - The Small One
Smurfette - The Smurfs
Vixey - The Fox and the Hound
Mrs. Brisby and Timothy "Timmy" Brisby - The Secret of NIMH (1982 dub)
Isabelle (Daisy Duck) - Mickey's Christmas Carol (1983 dub)
Baby Piggy - Muppet Babies (1984)
Sunni Gummi - Gummi Bears
Sister Bear (1st voice) - The Berenstain Bears (1985)
Princess Eilonwy and Fairfolk Girl - The Black Cauldron
Michael Banks and Jane Banks (singing voice) - Mary Poppins (1986 dub)
Paul Rawlins - Bedknobs and Broomsticks (1986 dub)
Olivia Flaversham and Lady Mouse - The Great Mouse Detective
Twinkle - Pinocchio and the Emperor of the Night
Chip - Chip 'n Dale Rescue Rangers
Young Babar and Young Celeste - Babar (Mexican re-dub) and Babar: The Movie (Mexican re-dub)
Anne-Marie - All Dogs Go to Heaven (1989 dub)
Alicia - He-Man & She-Ra: A Christmas Special
Rebecca Cunningham - TaleSpin
Webby Vanderquack - Ducktales the Movie: Treasure of the Lost Lamp
Edmond - Rock-A-Doodle
Belle (speaking voice) - Beauty and the Beast, Beauty and the Beast: The Enchanted Christmas, and Belle's Magical World
Jerry - Tom and Jerry: The Movie
Bo Peep - Toy Story 1, 2, and 4
Young Baloo and Mowgli - Jungle Cubs
Lani - Tayo the Little Bus
Minnie Mouse and Belle - House of Mouse
Gwen - The Monster Clubhouse
Koko Caterpillar - Katy Meets the Aliens
Trivia
Community content is available under
CC-BY-SA
unless otherwise noted.