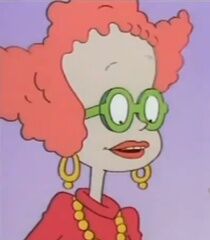 She is Tommy's mother
She played Little John disguised as Fortune Teller in Ryder Hood
Voice Actors:
Melanie Chartoff

- English

Sakiko Uran

- Japanese
Monica Manjarrez - Spanish

Angiolina Gobbi

- Italian

Joanna Wegrzynowska

- Polish
Portrayals:
Gallery:
Didi Pickles' Animal Counterparts:
Didi Pickles as the Hippopotamus
Appearance
Like everything hippo with a lady's head in the franchise, Didi Pickles is fat, her skin is light yellow, but in the belly, she is a little lighter than the rest of her body. She also has a triangular belly button. A running gag is that her huge size and weight causes many problems.
Gallery