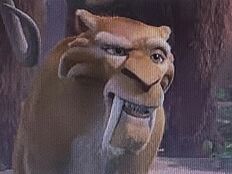 Diego is saber-tooth cat from Ice Age.
He is the prince of the Fire Nation
He is Superman's father
He played Balto in Diegoto
He is a wolf dog
He is a lion
He is a tiger
He is a grizzly bear animatronic
He is a panther
He is a brown German shepherd
He is a cat
He is the avatar's father
He is an Ogre
He is a Cat in Boots
He is the beast
He is the wookie
He is the lasat
He played Altivo in The Road To El Dorado (Dragon Rockz Style)
He is the horse
He is the Jedi
He played Tramp in The Sabertooth Couple
He is a Dog
He played The Unmasked Darth Vader in Animation Star Wars
He is an ex-sith lord
He is a Piggy Bank
he is a giant pacific octopus
He  is a large hairy cyan monster with magenta spots and periwinkle eyes. He has curved horns, white claws, razor-sharp fangs, white spikes and many more.
Portayal
Relatives:
Wife - Shira
Mates - Manny and Sid
Niece - Peaches
Gallery
Community content is available under
CC-BY-SA
unless otherwise noted.