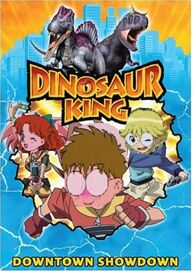 143Movies' TV-spoof of Dinosaur King (2007). It will appear on YouTube in the near future to celebrate the 10th Anniversary.
Cast:
Max Taylor - Melvin Butler (Sailor Moon)
Rex Owen - Tori (Tai Chi Chaser)
Zoe Drake - Molly Baker (Sailor Moon)
Reese Drake - Kim Possible
Spike Taylor - Shaggy Rogers (Scooby Doo)
Aki Talyor - Velma Dinkley (Scooby Doo)
Dr. Z - Count Dracula (Scooby Doo and the Reluctant Werewolf)
Ursula - Herself
Zander - Himself
Ed - Himself
Rod - Jimmy (Ed Edd n Eddy)
Laura - Sarah (Ed Edd 'n Eddy)
Helga - Wilma Flinstone (The Flinstones)
Seth - Neflite (Sailor Moon)
Jonathan - Johnny Bravo
Chomp - Himself
Ace - Himself
Paris - Herself
Terry - Himself
Spiny - Himself
Tank - Himself
Dr. Owen - Professor Birch (Pokemon)
Tommy K - Alan M Bayberry (Josie and the Pussycats)
Michelle - Mrs Haruna (Sailor Moon)
Amy - Herself
Mary - Tea (Yugioh)
Poacher - Yami Bakura (Yugioh)
Mrs. Drake - Anastasia
Dr. Drake - Dimitri (Anastasia)
Dr. Ancient - Ash Ketchum (Pokemon)
Dr. Cretacia - Serena (Pokemon)
Seasons:
Trivia:
Zoe Drake and Max Taylor were Molly Baker and Melvin Butler in 397Movies' TV spoof, Sailor Roxanne.
The Main Reason Shaggy is Spike Taylor Because they have Bro and Both Cowar
Gallery:
Community content is available under
CC-BY-SA
unless otherwise noted.