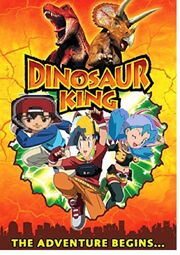 190Movies' TV spoof of Dinosaur King (2007). It will appear on YouTube in the near future to celebrate the 10th Anniversary.
Cast:
Max Taylor - Jimmy (Pokemon Chronicles)
Rex Owen - Arika Akatsuki (Marvel Disk Wars The Avengers)
Zoe Drake - Marina (Pokemon Chronicles)
Reese Drake - Dawn (Pokemon)
Spike Taylor - Clay (Pokemon)
Aki Taylor - Professor Juniper (Pokemon)
Dr. Z - Ben Ravencroft (Scooby Doo and the Witch Ghost)
Ursula - Zoycite (Sailor Moon)
Zander - Malachite (Sailor Moon)
Ed - Jedite (Sailor Moon)
Laura - Bubbles (The Powerpuff Girls)
Rod - Micheal Darling (Peter Pan)
Helga - Amy/Sailor Mercury (Sailor Moon)
Seth - Count Dracula (Scooby Doo and the Reluctant Werewolf)
Ace - Himself
Paris - Herself
Terry - Himself
Spiny - Himself
Tank - Himself
Dr. Owen - Shaggy Rogers (Scooby Doo)
Dr. Drake - Professor Oak (Pokemon)
Mrs. Drake - Delia Ketchum (Pokemon)
Tommy K - Lawrence Fletcher (Phineas and Ferb)
Season:
Gallery:
Community content is available under
CC-BY-SA
unless otherwise noted.