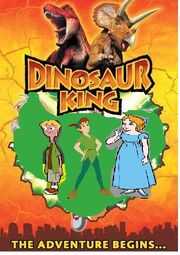 1986Movies' TV spoof of Dinosaur King (2007). It will appear on YouTube in the near future to celebrate the 10th Anniversary.
Cast:
Max Taylor - Peter Pan
Rex Owen - Jeremy Johnson (Phineas and Ferb)
Zoe Drake - Wendy Darling (Peter Pan)
Reese Drake - Alice (Alice in Wonderland)
Spike Taylor - Dimitri (Anastasia)
Aki Taylor - Anastasia
Dr. Z - Hades (Hercules)
Ursula - Lady Tremaine (Cinderella)
Zander - Judge Claude Frollo (The Hunchback of Notre Dame)
Ed - Jasper (101 Dalmatians)
Rod - Russell (Up)
Laura - Blossom (The Powerpuff Girls)
Helga - Princess Odette (The Swan Princess)
Seth - Captain Hook (Peter Pan)
Jonathan - Maurice (Beauty and the Beast)
Chomp - Himself
Ace - Himself
Paris - Herself
Terry - Himself
Spiny - Himself
Tank - Himself
Dr. Owen  - Phoebus (The Hunchback of Notre Dame)
Dr. Drake - George Darling (Peter Pan)
Mrs. Drake - Mary Darling (Peter Pan)
Tommy K - Dave Seville (Alvin and the Chipmunks)
Seasons:
Trivia:
Gallery:
Community content is available under
CC-BY-SA
unless otherwise noted.