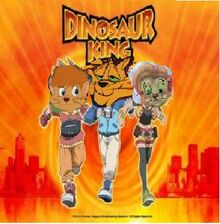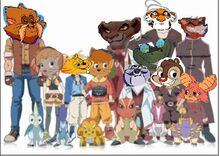 Dinosaur King (Chris1701 Style) is Chris1701's TV-Spoof of Dinosaur King (2007). It will appear on YouTube in the near future to celebrate the 10th Anniversary.
Cast:
Max Taylor - Tom Sawyer (Tom Sawyer)
Rex Owen - Jaune Tom (Gay Pur-ee)
Zoe Drake - Becky Thatcher (Tom Sawyer)
Reese Drake - Sawyer (Cats Don't Dance)
Spike Taylor - Tiger (An American Tail)
Aki Taylor - Miss Kitty (An American Tail 2: Fievel Goes West)
Dr. Z - Fat Cat (Chip 'n Dale Rescue Rangers)
Ursula - Vitani (The Lion King 2: Simba's Pride)
Zander - Shere Khan (The Jungle Book)
Ed - Kaa (The Jungle Book)
Rod - Dale (Chip 'n Dale Rescue Rangers)
Laura - Foxglove (Chip 'n Dale Rescue Rangers)
Helga - Mrs Brisby (The Secret of NIMH)
Seth - Don Karnage (TaleSpin)
Jonathan - Flik (A Bug's Life)
Chomp - Himself
Ace - Himself
Paris - Herself
Terry - Himself
Spiny - Himself
Tank - Himself
Dr. Owen - Tom (Tom and Jerry)
Mrs. Drake - Duchess (The Aristocats)
Dr. Drake - Thomas O'Malley (The Aristocats)
Tommy K - Spike (Tom and Jerry)
Spectre - Kapitein Haak (Peter Pan)
Gavro - Scar (The Lion King)
Foolscap - Clayton (Tarzan)
Michelle - Raye/Sailor Mars (Sailor Moon)
Amy - Emmy (Dragontales)
Meena - Princess Jasmine (Aladdin)
Sheer - Cruella Devill (101 Dalmatians)
Dr. Ancient - Artemis (Sailor Moon)
 ???? - Luna (Sailor Moon)
Seasons:
Trivia:
Gallery:
Community content is available under
CC-BY-SA
unless otherwise noted.