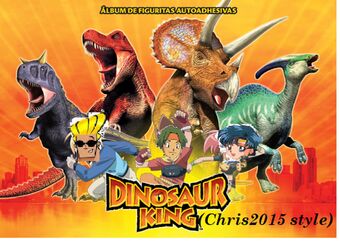 Dinosaur King (Chris2015 Style) is Chris2015's TV-Spoof of Dinosaur King (2007). It will appear on YouTube in the near future to celebrate the 10th Anniversary.
Cast:
Max Taylor - Tracey (Pokemon)
Rex Ancient - Johnny Bravo
Zoe Drake - Ami Mizuno (Sailor Moon)
Reese Drake - Raye/Sailor Mars (Sailor Moon)
Spike Taylor - Professor Utonium (The Powerpuff Girls)
Aki Taylor - Miss Keane (The Powerpuff Girls)
Dr. Z - Dick Dastardly
Ursula - Ma Beagle (Ducktales)
Zander - Merlock (Ducktales The Movie Lost Lamp)
Ed - Doijn (Ducktales)
Rod - Pinocchio
Laura - Buttercup (The Powerpuff Girls)
Helga - Mrs Miller (Alvin and the Chipmunks)
Jonathan - Yogi Bear
Seth - Himself
Chomp - Himself
Ace - Himself
Paris - Herself
Terry - Himself
Spiny - Himself
Tank - Himself
Dr. Owen - Pops (Johnny Bravo)
Mrs. Drake - Chicha (The Emperor's New Groove)
Dr. Drake - Pacha (The Emperor's New Groove)
Tommy .K - Fred Flinstone (The Flinstones)
Trivia:
Gallery
Community content is available under
CC-BY-SA
unless otherwise noted.