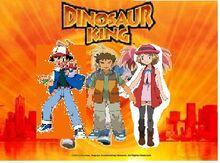 Ooglyeye's TV Spoof of Dinosaur King (2007). It will appear on YouTube in the near future to celebrate the 10th Anniversary.
Cast:
Max Taylor - Ash Ketchum (Pokemon)
Rex Owen - Brock (Pokemon)
Zoe Drake - Serena (Pokemon XY)
Reese Drake - May (Pokemon)
Spike Taylor - Professor Oak (Pokemon)
Aki Taylor - Delia Ketchum (Pokemon)
Dr. Z - Giovanni (Pokemon)
Ursula - Jessie (Pokemon)
Zander - James (Pokemon)
Ed - Meowth (Pokemon)
Rod - Max (Pokemon)
Laura - Bonnie (Pokemon)
Helga - Aprill O'Neil (Teenage Ninja Turles)
Seth - Butch (Pokemon)
Jonathan - John Rolfe (Pocahontas 2: Journey to a New World)
Chomp - Himself
Ace - Himself
Paris - Herself
Terry - Himself
Spiny - Himself
Tank - Himself
Dr. Owen - Flint (Pokemon)
Mrs. Drake - Caroline (Pokemon)
Dr. Drake - Norman (Pokemon)
Tommy K - Himself
Spectre - Zirconia (Sailor Moon)
Spectre - Hawk's Eye (Sailor Moon)
Foolscape - Tiger's Eye (Sailor Moon)
Sheer - Fish's Eye (Sailor Moon)
Dr. Ancient - Pacha (The Emperor's New Groove)
Dr. Cretacia - Chicha (The Emperor's New Groove)
Baby Rex - Yipi (The Emperor's New Groove)
Seasons:
Trivia:
Max played Ash, Rex played Brock, and Zoe played Serena in Pokemon (Ooglyeye Style).
Both James and John Rolfe were voiced by the late Bram Bart.
Ash, Delia, Max, and Aki were voiced by Veronica Taylor. Jessie, Ursula, and Laura were voiced by Rachael Lillis.
This is the first TV spoof of Ooglyeye.
Gallery:
Community content is available under
CC-BY-SA
unless otherwise noted.