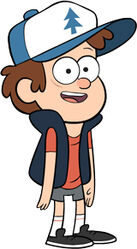 Dipper Pines is the main character from Gravity Falls.
He played Rigby in

Regular Show (TongueSpeakingFool Style)
He played Mr. Pricklepants in

Cartoon Story 3 (NicktoonFan124 Style)

and

Cartoon Story 4 (NicktoonFan124 Style)
He played Benny in

WoodyWorld

. He is an Dog
He Played Buttercup in

Toon Story 3 (2010)

and

Toon Story 4 (2019)
He played Tom in

Talking Cartoons (TongueSpeakingFool Style)

. He is an Cat
He played Boss Cass in Mabel the Slightly Older Sister. Dipper is a southern cassowary
He played Oscar in Steven Universe Crossover Shark Tale
He played King K. Rool in Mabel Kong Country series. He is a Crockodile
He played Timon in

The Pepperoni Pizza King
He played Sunset Shimmer in My Little Star (My Little Pony Equestria Girls), My Little Star: Rainbow Rocks He is an equestria girl.
as Dimitri in PaccificaStasia (1997)
He played Applejack in My Little Star: Friendship Games
He played Gloriosa Daisy in

My Little Star: Legend of Bill Cipher
He is a basketball player.
He played Horton in

Dipper Hears a Cat
He is Ami and Yumi's Best Friend
S5E03 Running Around, he was Anna Gunden's friend (portrayed by Kari Kamiya) and a former Amish boy which enjoyed the city life and partying, causing him to be ex-commulgated from being an Amish. However, this new life of his was an opposite to what he feels right now; he does really missed his parents and wants to go back to them once again, but he cannot leave his partying life. Sadly, after Anna's mom visited her in the city and she want for her to live in the city, Jakob confronts her and felt being jealous that her mom visited her while he was not, that he wants to go back from being Amish again, and for only to do that, he wants to go back with her. But Anna already made up her mind that she wants to stay and continue her life on Rumspringa, which causes him to be enraged and pursuing her, but he stabbed Anna to death in the end. He was been arrested, but before he went to his cell, his parents appeared in the homicide office (portrayed by Grunkle Stan and Wendy Pines) just to see him again and embracess them for the last time once again.
Portrayals:
Gallery: