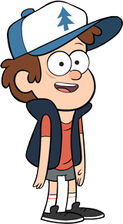 Dipper Pines is the main character from Gravity Falls.
He played Benny in WoodyWorld. He is an Dog
He played Boss Cass in Mabel the Slightly Older Sister. Dipper is a southern cassowary
He played King K. Rool in Mabel Kong Country series. He is a Crockodile
He played Sunset Shimmer in My Little Star (My Little Pony Equestria Girls), My Little Star: Rainbow Rocks He is an equestria girl.
He played Applejack in My Little Star: Friendship Games
He is a basketball player.
He is Ami and Yumi's Best Friend
Portrayals:
Gallery:
Community content is available under
CC-BY-SA
unless otherwise noted.