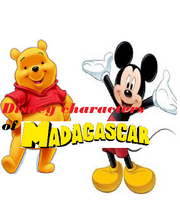 Ooglyeye's movie-spoof of Penguins of Madagascar (2014). It will appear on YouTube in the near future.
Cast:
Skipper - Mickey Mouse (Disney)
Private - Donald Duck (Disney)
Kowalski - Goofy (Disney)
Rico - Pluto (Disney)
Classified - Winnie the Pooh
Eva - Ducky (The Land Before Time)
Short Fuse - Sniffles (Looney Tunes)
Corporal - Johnny (Sing)
Dr. Octavius Brine/Dave - Pete (Disney)
Bud the Octopus - Mortimer Mouse (Disney)
Baby Skipper - ???
Baby Private - Dewey (DuckTales)
Baby Kowalski - Max Goof (A Goofy Movie)
Baby Rico - Pup Pluto (Disney)
Baby Squid - Baby Kate (Arthur)
Dr. Octavius Brine (Human) - James (Pokemon)
Sheep - Themselves
Dave as a Cute Octopus - Berlioz (The Aristocats)
King Julien - Baloo (The Jungle Book)
Mort - Kit Cloudkicker (TaleSpin)
Trivia:
Gallery:
Community content is available under
CC-BY-SA
unless otherwise noted.