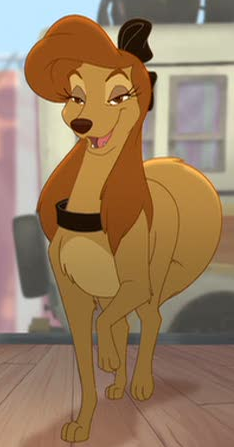 Dixie is a character from The Fox & The Hound II. She's Cash's sweetheart.
Good or bad?
Dixie is good, but tomboyish saluki in this movie. She's a stranger, whom Cash has a crush on but currently Dixie is in love with Chief, that bad dog, who makes Cash too angry. She lives with her room-mate Zelda, who has become her new best friend.
She is a lioness
She played Tantor's Mom in Scoobyzan
She is an elephant
She played Belle in Beauty & The Echidna
She is a girl who loves books
She played Rhonda in The Naked Cage (PrinceBalto Animal Style)
She is a helpful prison guard
She played The Wachati Princess in Charlie Barkin: When Nature Calls
She is an African princess
She played Martha May Whovier in How The Wolf Stole Christmas (2000)
She is a who
She played Asami Sato in The Legend Of Kate
She is a wealthy businesswoman
she is a Ogre
She played Nana in Snow Dogs (PrinceBalto Style)
She is a Border collie
She played Laila in Roadside Garth
She is a singing Maltese 
She is a Woman
She is the wife of Avatar Roku and a resident of the Fire Nation.
She Played Swan

Odette In The Red Haired Dog Princess
She is a Swan of The Evil Spel of Rothbart
She Played Applejack in

My Little Pet Animal: Friendship is Magic
She is a Pony
Portrayals
In The Wolf-Dog & The Hedgehog II- Dixie played by Tigress
In The Mouse and the Bear 2 Dixie played by Belle
Likes and dislikes
Likes:
Singing with all stray dogs
Country music
Being catholic
Dislikes:
Cash (formerly)
Gallery: