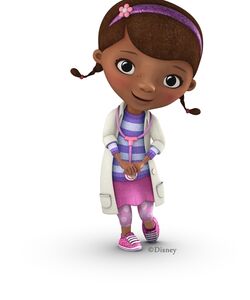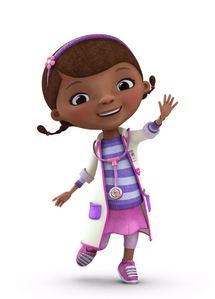 Dottie McStuffins (nicknamed Doc McStuffins) is a 6-year-old (later 7) girl who is the main protagonist from the 2012 animated Disney Junior series, Doc McStuffins.
Doc wears a glittery purple headband with a flower (consisting of 5 pink petals around its white center on it), a white lab coat with rolled-up sleeves, pockets on each side, and a timberwolf button on its left side, a lavender fleece shirt with purple stripes, a pink fleece skirt with pointy cuts, lavender knee pants with pink and rose polka dots on them, a pair of purple ankle-length socks, a pair of sparkly pink sneakers with white trimmings, and her magic stethoscope (consisting of both pink ear tips and chest plate, both lavender ear tube and tubing, a rose chest piece, and a white diaphragm with its insignia consisting of a sienna Band-Aid with a red heart on its center diagonally to the left on a purple outline circle) that causes her toy buddies to come to life when her family and human friends aren't with her. When treating pets, she normally wears underneath her doctor's coat a green shirt with pink paw prints. In Season 4, she wears a toysponder, a magical bracelet resembling a bandage. She is usually seen in other clothes in some episodes.
She is a dwarf.
Doc plays Cinderella in

Docrella
Doc plays Snow White in

Doc White and the Seven Friends
She is a little girl.
Protrayals:
Gallery:
Doc McStuffins' Animal Counterpart
Doc McStuffins as the Hippopotamus
Trivia
Doc usually appears in other clothes in some episodes.
Doc is African-American.
In addition to being a doctor, Doc also likes playing soccer with her best friend Emmie.
It is also hinted that Emmie may be the same age as Doc, while Alma, Will, and Luca may be the same age as Donny.
Doc has cried in "Stuck Up".
Doc's voice actress,

Kiara Muhammad

, also voices

Princess Kari

in the

Disney Junior

series, Sofia the First.
Her appearances are only at the ends of each film spoof travel such as The Secret of NIMH (Nikkdisneylover8390's Style), Animals, Inc. (Dragon Rockz's Style), FernGully: The Last Rainforest (Dragon Rockz's Style), A Pooh in Central Park, The Brave Little Piglet, The Thomas O'Malley Movie, Cloudy with a Chance of Meatballs (Justin Quintanilla's Style), Finding Alvin (J.B. Eagle's Style), The Forest Book 2 (TrainBoy43's Style), Madagascar (FamousImagination50's Style), Sleeping Beauty (Justin Quintanilla's Style), Aurorastasia, Despicable Me (Justin Quintanilla's Style), We're Back!: A Jungle Animal's Story, and Jimmynocchio and will even be in more spoof travels.
She often works as a doctor and a film theater employee with a torch.