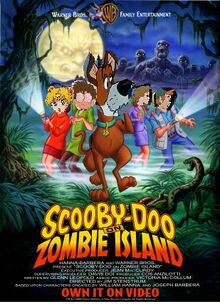 1961Movies' movie-spoof of Scooby Doo on Zombie Island (1998). It will appear on YouTube in the near future to celebrate the 20th Anniversary.
Cast:
Scooby Doo - Dodger (Oliver and Company)
Shaggy Rogers - Melvin Butler (Sailor Moon)
Fred Jones - Peter Pan (Peter Pan)
Daphne Blake - Wendy (Peter Pan)
Velma Dinkley - Serena/Sailor Moon
Chris - Nurse Joy (Pokemon)
Jacques - Commander Rourke
Jacques (Werecat) - ???
Lena Dupree - Helga (Altantis the Lost Empire)
Simone Lenoir - Cruella Deville
Lena (Werewolf) - ???
Simone (Werewolf) - ???
Beau Neville - Roger Ratcliffe
Snakebite Scruggs - Jasper (101 Dalamtains)
Mojo - Chief (The Fox and the Hound)
Moat Monster - Himself
Mr. Beeman -  Horace (101 Dalmatians)
Trivia:
This spoof will be dedicated to Mary Kay Bergman (1961-1999), Don Messick (1926-1997) and Ed Gilbert (1931-1999).
This is an NTSC spoof.
17 episodes of Sailor Moon R were released on TV while Scooby Doo on Zombie Island was released on home video, and Peter Pan was re-released on home video as part of the Walt Disney Masterpiece Collection in 1998.
Gallery:
Community content is available under
CC-BY-SA
unless otherwise noted.