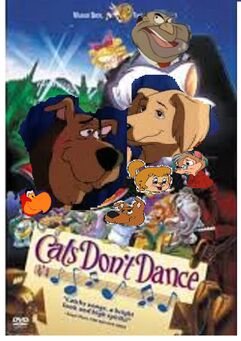 4000Movies' movie-spoof of Cats Don't Dance (1997). It will appear on YouTube in the near future to celebrate the 20th Anniversary.
Cast:
Danny - Scooby Doo
Sawyer - Amber (Scooby Doo and the Alien Invaders)
Pudge - Scrappy Doo (Scooby Doo)
Wooly Mammoth - Himself
Tillie Hippo - Brittany Miller (Alvin and the Chipmunks)
Cranston Goat - Nicodemus (The Secret of NIMH)
Frances Albacore - Mrs. Brisby (The Secret of NIMH)
T.W. Turtle - Iago (Aladdin)
Darla Dimple - Herself
Max - Ratso Ratzkiwatzki (Chip 'n Dale Rescue Rangers)
LB Mammoth - Aladdin
Flannigan - Dave Seville (Alvin and the Chipmunks)
Farley Wink - Ash Ketchum (Pokemon)
Bus Driver - Himself
Quotes:
Aladdin: You animals will never--
David Seville: --chew bones in this town again.
Brittany Miller: I think they liked it!
Scooby Doo: How does the puppy dog go?
Ratso Ratzkiwatzki: Woof? (Giggles)
Scooby Doo: Very good.
Trivia:
at the end of the movie, Scooby cries out his famous catchphrase, "Scooby-Dooby-Doo!"
Gallery: