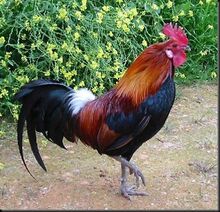 The chicken (Gallus gallus domesticus) is thought to originate from the red jungle fowl and the grey jungle fowl, found in the rainforests of India. Today, the domestic chicken is thought to be more closely related to the grey jungle fowl due to the yellow colouring of it's skin. Although they are similar, the Indian jungle fowl is about half the size of a domestic chicken today.
Domestic Chicken Breed/Subspecies
Roles
Gallery
Is a Crocodile a Reptile?
Books
See Also